The story of the kasliwal dates back to the XVI
century when they first established themselves as
the legendary jewelers of the Maharajas, "great kings" of India.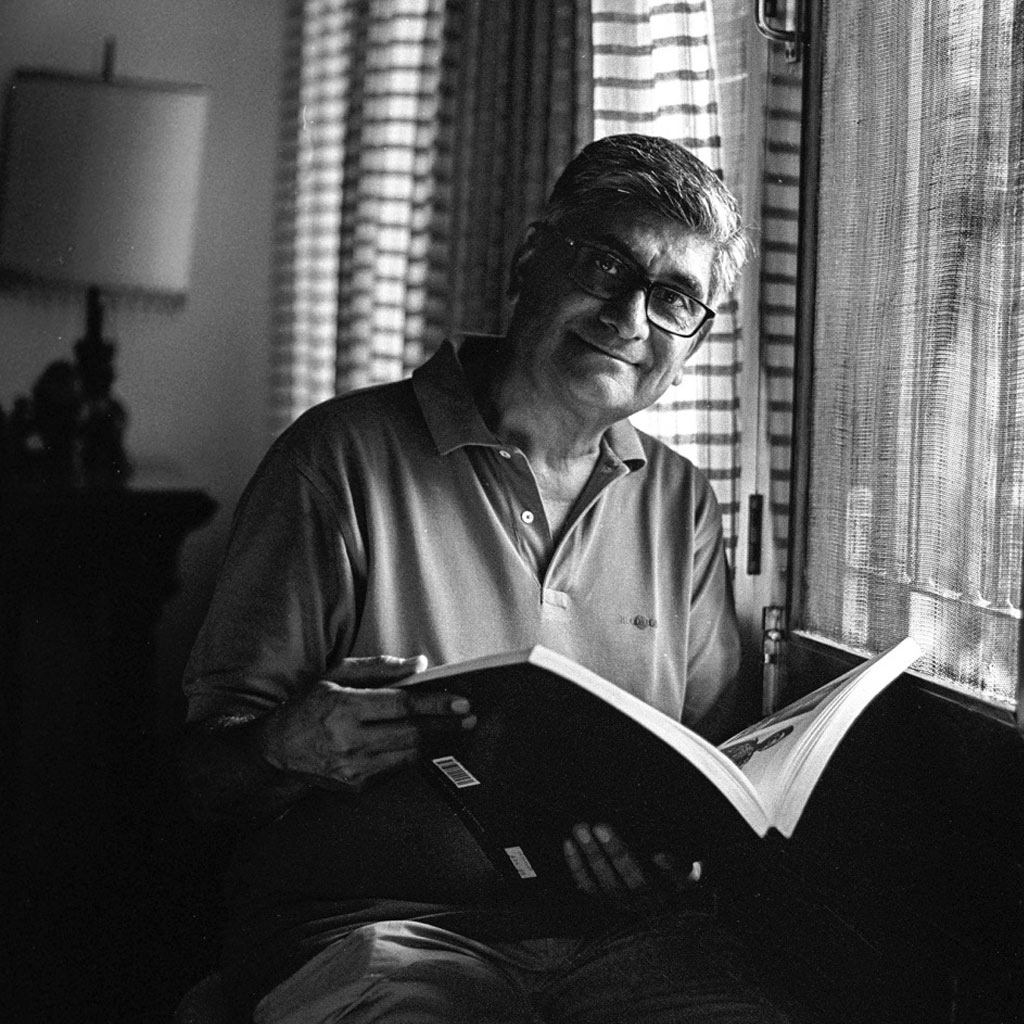 Sudhir Kasliwal
CFO & PARTNER
SUDHIR KASLIWAL IS AN ACCOMPLISHED JEWELER, PHOTOGRAPHER AND COLLECTOR. BORN IN JAIPUR, HE BELONGS TO THE SIXTH GENERATION OF ROYAL JEWELERS. SUDHIR KASLIWAL IS THE ELDEST OF THE THREE BROTHERS; HE BEGAN WORKING AT THE GEM PALACE IMMEDIATELY AFTER GRADUATING FROM UNIVERSITY. HE HOLDS THE IMPORTANT POSITION OF ADMINISTRATOR AND FINANCIAL CONTROLLER OF THE COMPANY. AS FOR PHOTOGRAPHY, SUDHIR'S LOVE FOR THE ART FORM BEGAN AS A HOBBY AND SOON TRANSFORMED INTO A CONSUMING PASSION. RAJASTHAN'S SPELL BINDING LIFE, LANDSCAPES AND HERITAGE HAVE BEEN A DEEP AND LONGLASTING INSPIRATION FOR HIM. SEASONAL FAIRS AND FESTIVALS IN RURAL RAJASTHAN HAVE BEEN SOME OF SUDHIR'S FAVORITE SITES TO VISIT, AS THEY REUNITE DIFFERENT STRANDS OF THE RICH CULTURAL FABRIC OF INDIA. SUDHIR'S INTIMACY WITH RAJASTHAN, ITS PEOPLE AND HERITAGE GIVE HIM A VERY SPECIAL VANTAGE POINT ON THE REGION, A LICENSE TO CAPTURE ITS EVERYDAY BEAUTY THAT ONLY A TRUE INSIDER CAN VISUALIZE. SUDHIR'S PHOTOGRAPHS HAVE RECEIVED INTERNATIONAL RECOGNITION AND THEY HAVE APPEARED REGULARLY IN LEADING JOURNALS ALL OVER THE WORLD.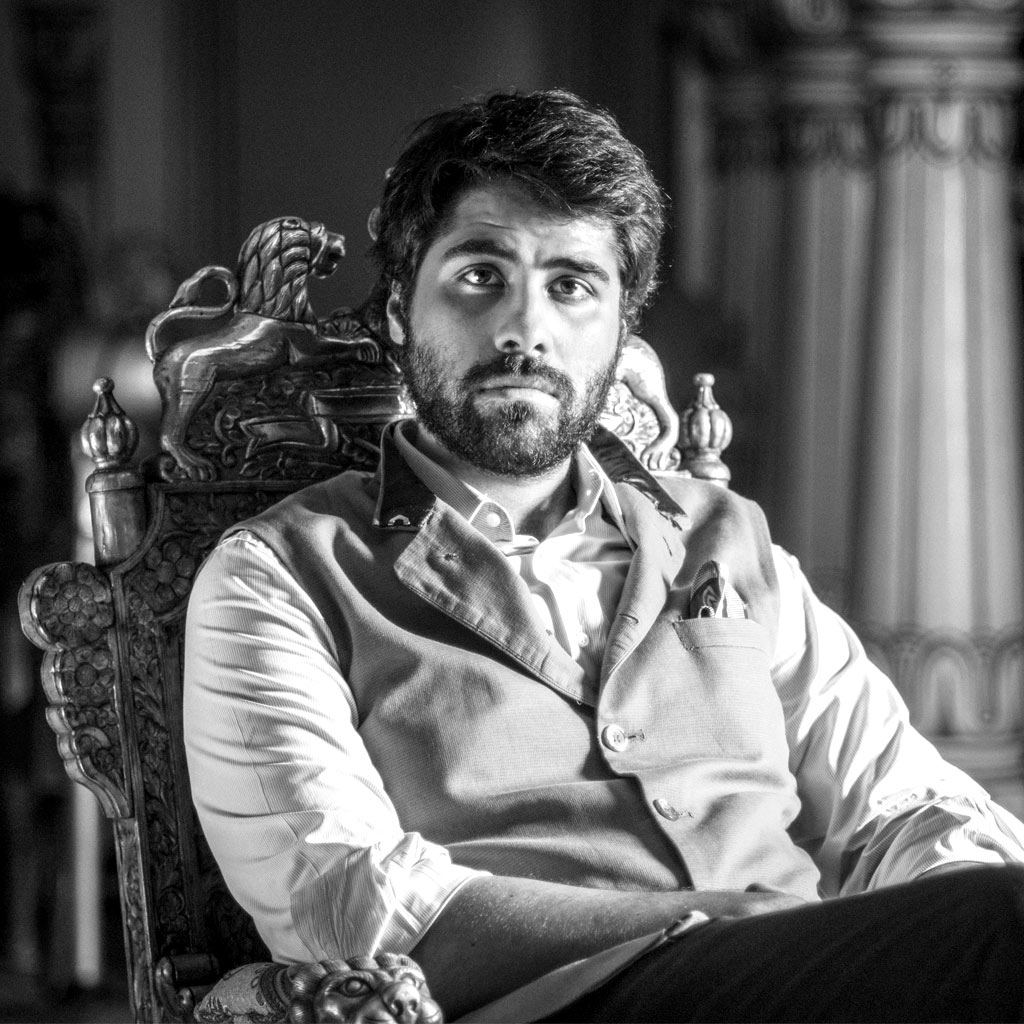 Samir Kasliwal
PARTNER
SAMIR KASLIWAL, SANJAY'S HALF-ITALIAN SON, HAS BEEN EDUCATED IN ITALY AND IN NEW YORK, WHERE HE COMPLETED HIS STUDIES AT THE GEMMOLOGICAL INSTITUTE OF AMERICA AND GAINED A DEGREE AS A GRADUATE GEMMOLOGIST. TRAINED UNDER THE VETERAN EYE OF HIS FATHER, SAMIR IS FIRMLY ENTRENCHED IN THE WORKINGS OF THE BUSINESS. NOW, HE IS LOOKING TO EXPAND THE GEM PALACE TO NEW LEVELS AND MAKE IT A LEGACY THAT EVERYONE CAN HAVE A PIECE OF. HIS FOCUS LIES MAINLY IN ATTEMPTING TO CREATE AFFORDABLE AND ATTRACTIVE DESIGNS THAT CAN BE EASILY BOUGHT BY A YOUNGER GENERATION OF CUSTOMERS. SAMIR GREATLY ADMIRES HIS FATHER SANJAY AND STRESSES THAT HE LEARNED EVERYTHING HE KNOWS ABOUT THE TRADE FROM GROWING UP WITH HIM. LIKE HIS FATHER, SAMIR WAS EXPOSED TO THE JEWEL BUSINESS FROM A VERY YOUNG AGE. BORN TO AN ITALIAN MOTHER AND INDIAN FATHER, HE ENJOYED THE BEST OF BOTH WORLDS AND SAW JEWELS FROM A DIFFERENT STANDPOINT – DEEPLY INFLUENCED BY THE WEST. NOW, HE CARRIES THE TRADE IN HIS BLOOD AND ASPIRES TO BRING HIS LEGACY FORWARD WITH AN EVER CHANGING FRESH PERSPECTIVE. SAMIR IS EXCITED TO PARTICIPATE IN BRINGING HIS RICH FAMILY HERITAGE INTO THE FUTURE.
Siddharth Kasliwal
PARTNER
SOME OF SIDDHARTH'S FONDEST CHILDHOOD MEMORIES INCLUDE ACCOMPANYING HIS FATHER, THE LEGENDARY JEWELER MUNNU KASLIWAL, ON TRIPS ACROSS THE WORLD. FROM A VISIT TO BRAZILIAN MINES AS A 9 YEAR-OLD, TO ATELIERS IN PARIS AND DIAMOND OFFICES IN NEW YORK. A PROFOUND CONNECTION TO JEWELRY BEGAN EARLY FOR HIM. HE RECALLS HAVING BEGUN GRADING STONES WELL BEFORE COMPLETING HIS FORMAL EDUCATION. UNDER MUNNU'S DISCERNING EYE AND ENCYCLOPEDIC WEALTH OF KNOWLEDGE, SIDDHARTH GAINED AN INTUITIVE SENSE OF DESIGN, AS WELL AS THE INTRICACIES OF BUSINESS. WHILE AT COLLEGE IN MUMBAI, SIDDHARTH BEGAN HIS FORMAL RELATIONSHIP WITH THE GEM PALACE, RUNNING THE STORE THERE. AT THIS TIME, HE ALSO BEGAN ASSISTING MUNNU AT VARIOUS MUSEUMS AROUND THE WORLD EXHIBITING THE GEM PALACE'S FAMED COLLECTION, AND ALSO GAINED WORK EXPERIENCE AT THE METROPOLITAN MUSEUM OF ART IN NEW YORK. CURRENTLY INVOLVED IN MANAGING ALL ASPECTS OF THE BUSINESS' OPERATIONS, SIDDHARTH'S ATTENTION TO CRAFT AND DETAIL INFORMS ALL HIS WORK. HIS SINCERE ADMIRATION FOR CRAFTSMANSHIP HAS ENSURED THAT HE CONTINUES TO WORK WITH THE SAME ARTISANS WHO HAVE BEEN EMPLOYED BY GEM PALACE FOR THE PAST NINE GENERATIONS, THUS SAFEGUARDING THE LINEAGE OF INDIAN ARTISTRY IN HIS TRADE. LIKE HIS FATHER, SIDDHARTH IS KNOWN TO PUSH THE BOUNDARIES OF JEWELRY DESIGN, AT TIMES DEVOTING SEVERAL YEARS TO PERFECTING A SINGLE PIECE.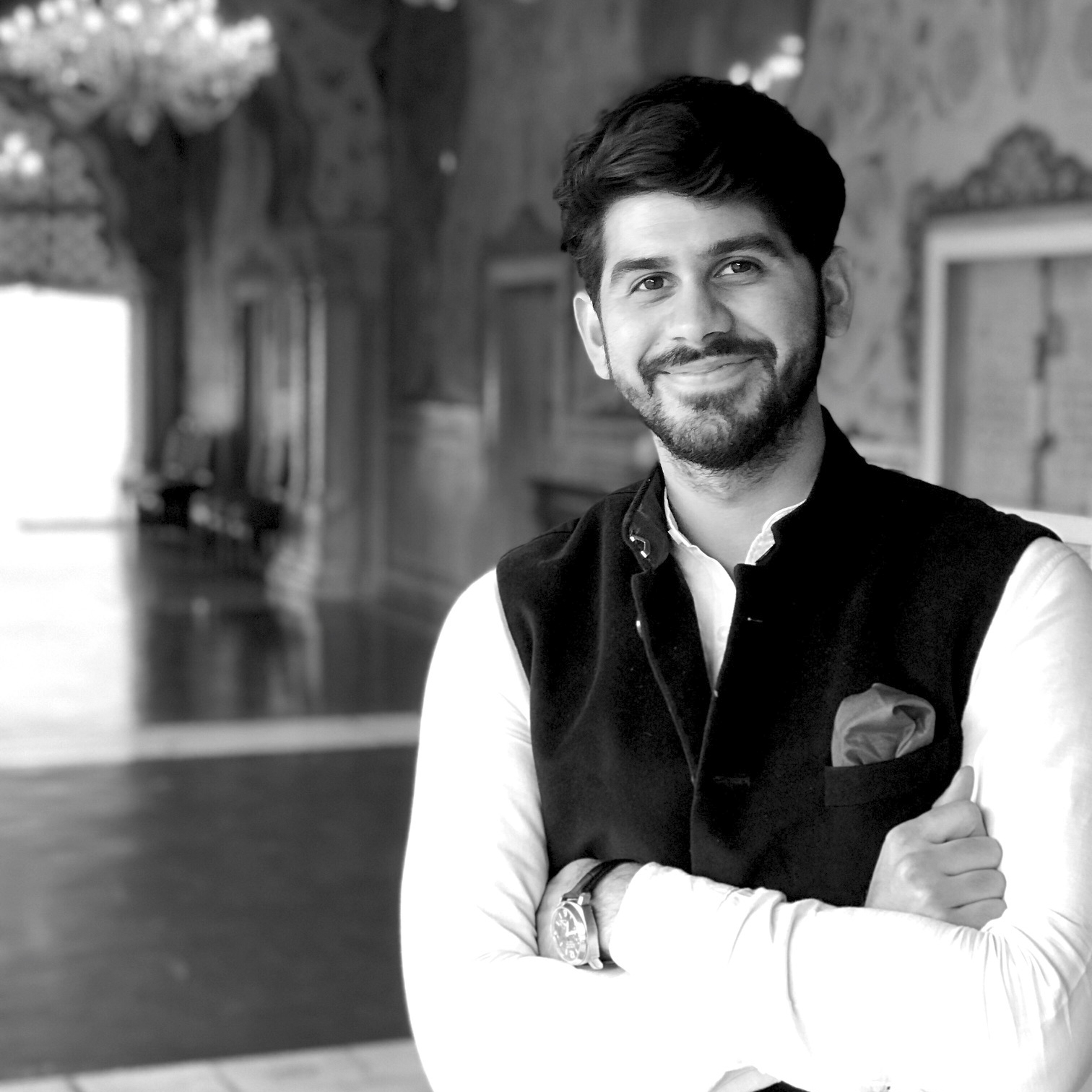 Samarth Kasliwal
PARTNER
BELONGING TO THE 9TH GENERATION OF THE GEM PALACE'S JEWELRY TRADITION, SAMARTH IS THE SON OF MUNNU KASLIWAL AND SIDDHARTH'S YOUNGER BROTHER. SAMARTH DID HIS SCHOOLING FROM MAYO COLLEGE IN AJMER AND GRADUATED FROM THE UNIVERSITY OF ST ANDREWS IN SCOTLAND, MAJORING IN ECONOMICS AND MANAGEMENT. UPON GRADUATION, SAMARTH FORMALLY JOINED THE BUSINESS OPERATIONS UNDER SIDDHARTH'S EXPERT GUIDANCE, WORKING ACROSS MANUFACTURING AND RETAIL. LIKE HIS BROTHER, SAMARTH INHERITED A KNACK FOR CREATIVITY AND A KEEN ARTISTIC INCLINATION FROM HIS LATE FATHER, MUNNU. HE IS DEEPLY INVOLVED IN CREATING DESIGNS FOR THE COMPANY, IMBUING HIS OWN UNIQUE AESTHETIC IN THE GEM PALACE'S TIMELESS COLLECTION. SAMARTH ALSO HOLDS AN AVID INTEREST IN ART AND HISTORY. IN 2018, HE CONTRIBUTED CURATORIAL MATERIAL FOR A JEWELRY EXHIBITION AT THE METROPOLITAN MUSEUM OF ART. ALWAYS WANTING TO FURTHER HIS KNOWLEDGE OF THE TRADE, HE HAS ALSO GAINED ADDITIONAL WORK EXPERIENCE AT THE JEWELRY HOUSE OF VERDURA/BELPERRON IN NEW YORK. HE EMBRACES TECHNOLOGY AND UNDERSTANDS THE IMPORTANCE OF MODERNIZATION FOR THE EVER-CHANGING VOLATILE BUSINESS SCENARIOS. ALWAYS ENERGETIC AND SINCERE, HE THOROUGHLY ENJOYS BEFRIENDING THE DIVERSE CLIENTELE THAT WALKS THROUGH THE DOORS OF THE GEM PALACE.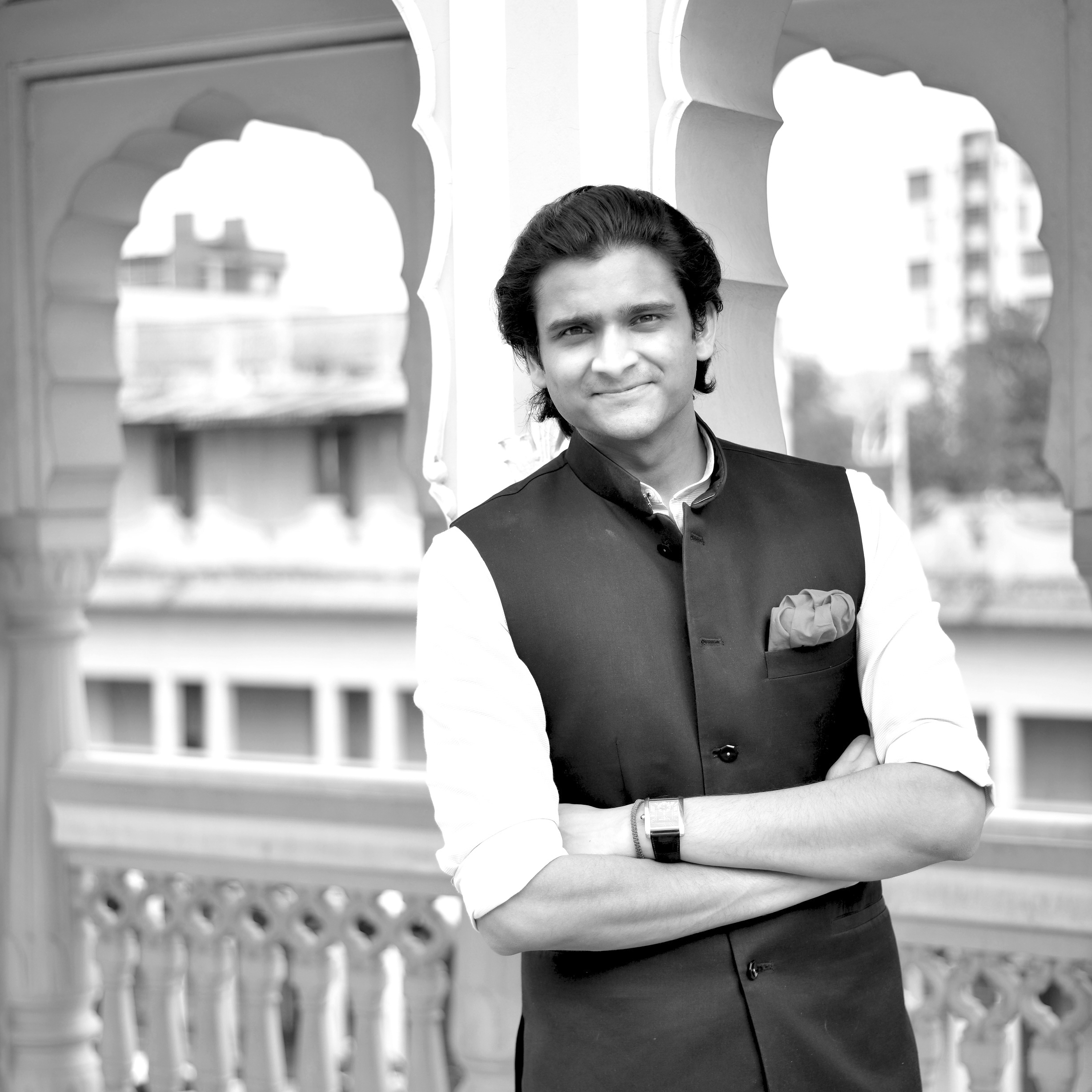 Sarthak Kasliwal
PARTNER
SARTHAK KASLIWAL IS THE YOUNGEST MEMBER OF THE GEM PALACE'S LEGACY AND IS THE SON OF AMOD KASLIWAL, FONDLY KNOWN AS 'PAPPU'. HAVING GROWN UP A STONE'S THROW AWAY FROM GEM PALACE'S FLAGSHIP STORE IN JAIPUR, SARTHAK WAS LITERALLY RAISED WITHIN THE FAMED WALLS OF THE GEM PALACE. THIS FOSTERED A DEEP YET NATURAL ADMIRATION FOR GEMSTONES AND JEWELRY FROM A YOUNG AGE. HE MAJORED IN BUSINESS & MANAGEMENT AT HR COLLEGE IN MUMBAI, AND SIMULTANEOUSLY BEGAN WORKING AT THE GEM PALACE'S STORE THERE. SEEKING TO FURTHER HONE HIS KNOWLEDGE OF THE INDUSTRY, SARTHAK JOINED THE GEMOLOGICAL INSTITUTE OF AMERICA IN NEW YORK CITY (GIA), WHERE HE GRADUATED IN DIAMONDS AND JEWELRY DESIGN. KEEN ON DESIGN, HE DRAWS INSPIRATION FROM TRAVEL, WHILE ALSO BEING FIRMLY ROOTED IN THE TRADITIONS OF HIS NATIVE JAIPUR. HIS DESIGNS FOCUS ON AMALGAMATING HERITAGE WITH CONTEMPORARY WEARABILITY. "ART IS FREEDOM" AND SARTHAK AIMS AT USING IT TO SCULPT A NEW GENERATION OF JEWELLERY WEARERS. HIS CURRENT FOCUS INCLUDES CREATING PIECES FOR A YOUNGER GENERATION, AND HE HOPES TO INITIATE A JEWELRY RENAISSANCE FOR MEN.